Daggett Celebrates 54 Years in ILA
International Longshoremen's Association President Harold J. Daggett joined the ILA in August of 1967 as a 21 year old and a member of ILA Local 1804-1 at the Port of NY/NJ. In a career spanning over 54 years, he became ILA President in 2011 and has served the membership in that role ever since.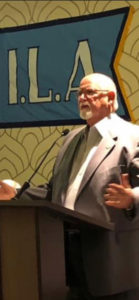 Click on link below to learn more about President Daggett's incredible career as well as the other ILA President's in our union's history.